by Jacob Schönning.
This summer it was reported that the Australian liberal prime minister Scott Morrison was welcomend on  stage at a gigantic Hillsong meeting during their annual conference in Sydney.  He led the congregation of 30-35000 people in prayer and confessed his faith in a miracle working God. Andreas Nielsen, lead pastor of Hillsong Sweden, affirmed that the prime minister "is a devout Christian". He also said that that "his participation in the conference is a recognition of the important role that the church in general plays in Australia and that it makes a difference."
Fantastic, isn't it?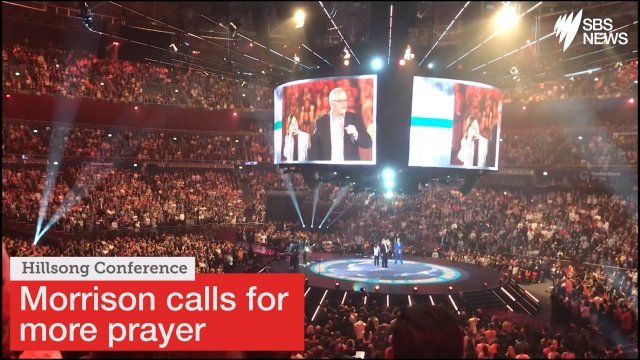 I am not so sure about that. On the contrary, I think that it is very dangerous for the soul of the Church in Australia. Last winter Magnus Malm wrote in Swedish Christian newspaper Dagen that God is not on the side of the powerful. In fact God says in Psalms 146,3: "Never put your trust in powerful men."  For centuries, Catholic and Orthodox churches have often been close to political power. That was the case when Spanish and Portuguese conquerors went ashore in South America, and it is the same today in countries like Russia and Poland.
In South America, however, the Catholic church has denounced the political power and declared that "God is not on the side of the rich and the powerful but on the side of the poor." Then, however, Pentecostals and Charismatics entered the scene. When the Catholics no longer were interested, the number of Pentecostals increased, since they were an attracive group to pay attention to. And this attention has paid off. Without their support it would have impossible for the violence inclined and Rain forest ravaging Bolsonaro to come into power in Brazil.
Pentecostals were given privileges and increased freedom to preach the gospel in return for their approval of conservative or liberal politician, almost like a state church.
And now this seems to be happening in Australia, too. "God is opening a door for our prime minister and his beautiful wife to lead this country", Brian Houston said among other things, before the whole congregation prayed for the couple. Also, the relationship between them is already close, since Houston according to Morrison is his mentor.
Just like Malm is writing, today it seems to be enough to bait the hook with support for Israel and resistance against abortion to get churches to justify any kind of authoritarian politics. This becomes obvious for instance when you consider the narcissist Trump.
So what´s the problem with Scott Morrison? Well, he is responsible for enforcing one of the most cruel asylum seeking systems in the world.  Boat refugees on their way to the rich country far away down under have been been intercepted and sent directly to litte island countries like Nauru and Manus far away, where they have been kept in camps.
No asylum seekers would be allowed to come to Australia but their cases would be processed in the camps, where they would be given the choice to remain in the camps without any possibility to support themselves, to "return home", or possibly to go to another country that has an agreement with Australia. That´s what Morrison told the refugees five years ago when visiting the camps.
This system is still being enforced. Doctors Without Borders reported last June that the mental suffering on Nauru is among the worst they've ever witnessed, including when considering projects for taking care of torture victims.
Morrison also told Australia's students to go back to school when they were protesting on the streets for climate action. That's not very surprising, since he's in charge of a government doing a horrible job at reducing greenhouse gas emissions. He probably wants to silence the criticism of the youth.
Hillsong and their leader Brian Houston disregarding this just so they can bask in the company of the prime minister isn't very good at all. We are the disciples of Him who made creation. We should not strengthen a political platform that in effect destroys it.
As Malm puts it: "Where can we today find a church willing to resist seductive power; instead carrying a trustworthy witness of another kingdom?"
Jacob Schönning is a vegan community-living, spirit-loving, sometimes a bit loud climate activist and Jesus revolutionary. Has a soft spot for silly games and most kinds of cakes. Studies Philosophy, politics and economy at Lund University.
Pentecostals & Charismatics for Peace & Justice is a multicultural, gender inclusive, and ecumenical organization that promotes peace, justice, and reconciliation work among Pentecostal and Charismatic Christians around the world. If you like what we do, please become a member!